Written by Nathan Jones
Sunday, 03 June 2018 16:25
Over the weekend, the second round of the 2018 WJL / Louise Arthur League for under 11, under 13 and under 15 was back earlier today with the sun shining over Cwrt Herbert Track, Neath and Cardiff Metropolitan University Track, Cyncoed.
After a number of Welsh Regional Athletics Championships (South, East, West and North), Youth Development League for U13/15 Lower Age Group and U17/20 Upper Age Group and the Welsh Athletics Senior League during the latter part of May, the Welsh Junior League / Louise Arthur League made a welcome return for sporty youngsters. Only four weeks after seeing round 1 hosted by Carmarthen Harriers (Johnstown) and Hereford & County Harriers (LC), the second rounds of four headed up the M4 to Neath and Cardiff on Sunday 3rd June. Over 1000 athletes were involved between the two matches showing how popular the league has become.
The Louise Arthur League has gone from strength to strength with around 500 athletes competing in each event in 2017. It's given children of all ages between under 11 and under 15 age groups the opportunity to compete in a friendly league alongside other runners from across South and Mid Wales. Split into two leagues, there's the West and East divisions.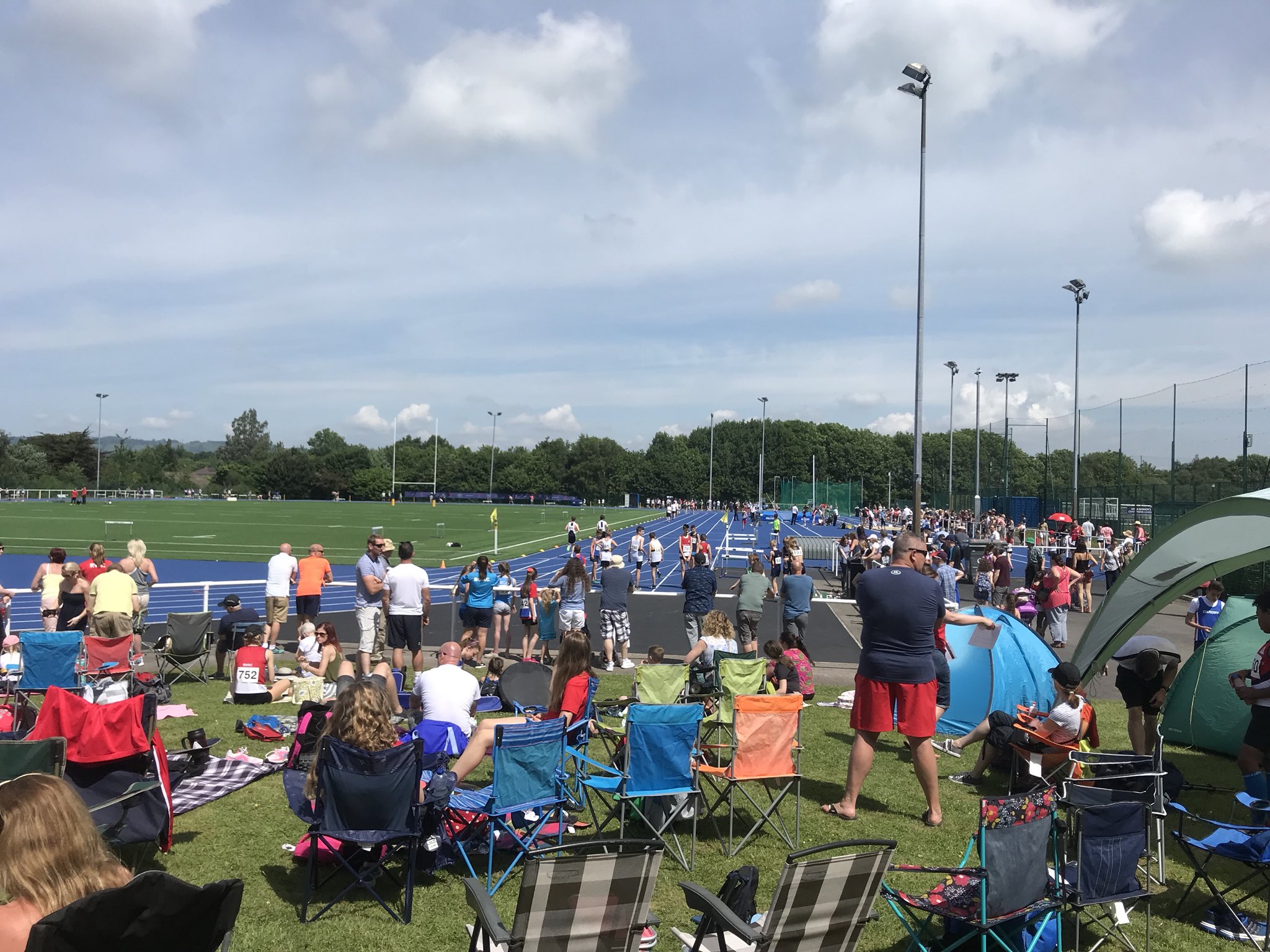 Again under clear blue skies and warm conditions, hundreds of under 11, under 13 and under 15 from eighteen junior Welsh clubs took to the track and the runways at two venues. For the East match, Aberdare VAAC, Blaenau Gwent AC, Cardiff Archers, Cardiff AAC, Cwmbran Harriers, Hereford & County, Newport Harriers, Rhondda AC and Rhymney Valley AC went to the magnificent Cardiff Metropolitan University Athletics Track at the Cyncoed Campus.
It has already put on the grand opening track and field open meeting and a MDAL Middle Distance Series open event, but this was the first time for the Louise Arthur to visit the blue looking surface.
Elsewhere, 40 miles down the M4 at Neath, the Cwrt Herbert Sports Centre Athletics Track was the venue for the West Division match where the vests of Pembrokeshire Harriers, Swansea Harriers, Carmarthen Harriers, Neath Harriers, Brecon AC, Bridgend AC, Llanelli AC, Barry & Vale and Pontyclun AC were out on show. In its 5th event over the weekend, It has been a busy few weeks for the Neath Harriers club, who has already hosted the West Wales Regional Athletics Championships, Youth Development League U13/U15, Welsh Athletics Senior League and the U11/13 Inter Club Triangular match in the past month.
Held on a perfect summers Sunday afternoon in June for a friendly athletics league, there was an action packed day of competition on the track and on the field in this new looking league timetable for 2018 in the space of just over six hours.
Starting at 11:00am with the hurdles and hammer events, the track then went on to the distance 1500m races before the ever popular 75m and 100m categories. At half way was the 800m then back to a variety of sprint age group races including the 150m, 200m and 300m. The programme on the track then concluded with the 1000m and sprint relays.
The field was also just as busy with all corners of the venues filled with throwers and jumpers. The hammer, javelin, long jump, shot, pole vault, discus and high jump were available for most age groups.
At the end of the league campaign at the end of July, clubs will go forward to the cup and plate finals to be held this year at Swansea.
Carmarthen Athletes Recognition Match 2 03.06.18:
Well done to all the Carmarthen Harries out at the second meeting earlier today, great efforts by you all!
Under 11 / O Dan 11: Ellie-May John, Lili Collier, Casi Gregson, Martha Morgan, Louisa Reid-Thomas, Alfie Prior, James Sloyan, Cai Allen, Tom Williams, Jac Jones, Alex Coles, Macsen Toogood, Liam Upton-Boorman, Llion Davies, Aron Bowen
Under 13 / O Dan 13: Milly John, Mati Morgan, Jessica Lee, Sophia Reid-Thomas, Megan Roberts, Keira Carmody, Hanna Evans, Faye Jones, Bessy Hill, Carys Wood, Amy Greatrick, Frances Mackie, Chloe Hale, Elen Williams, Dion James, Owain Hari-Davies, Harri Howells, Tygan Davies, Finn Best, Jack Thomas, Rogan Cox, Huw Cressey-Rodgers, Steffan Davies, Zac Elvy, Jake Lynock, Kacper Krawcewicz, Ifan Bowen, Iwan Thomas, Charlie Price
Under 15 / O Dan 15: Emma Adams, Sadie-May Mason, Bethany Davies, Zara Evans, Rosie Megrath, Nia Williams, Ioan Collier, Rhydian Morgan, Dafydd Jones, Dafydd Waters, Sean Hesmondhalgh, Scott Price, Frank Morgan, Morgan Batten, Joshua Morse
LOUISE ARTHUR LEAGUE 2018 FIXTURES / DIGWYDDIADAU LOUISE ARTHUR LEAGUE 2018
Saturday 30th June / Dydd Sadwrn 30ain Mehefin: Welsh Athletics Junior League West Fixture 3 @ Brecon
Saturday 30th June / Dydd Sadwrn 30ain Mehefin: Welsh Athletics Junior League East Fixture 3 @ Newport
Saturday 28th July / Dydd Sadwrn 28ain Gorffennaf: Welsh Athletics Junior League East Fixture 4 @ Newport
NOTE NEW DATE - Saturday 28th July / Dydd Sadwrn 28ain Gorffennaf: Welsh Athletics Junior League West Fixture 4 @ Swansea
Sunday 12th August / Dydd Sul 12fed Awst: Louise Arthur Gerald Codd Competition @ Haverfordwest
Saturday 18th August / Dydd Sadwrn 18fed Awst: Welsh Athletics Junior League Plate Final @ Swansea
Sunday 19th August / Dydd Sul 19eg Awst: Welsh Athletics Junior League Cup Final @ Swansea
RESULTS / CANLYNIADAU: LOUISE ARTHUR LEAGUE WEST 2 @ NEATH
RESULTS / CANLYNIADAU: LOUISE ARTHUR LEAGUE EAST 2 @ CARDIFF
OUT ON THE ROAD
Novice and Club runners got involved at the local 3 Peaks Challenge 2018 held in Llandeilo on Friday evening (1st June). A total of 213 competed in the main race which consisted of a 10k mixed trail, tarmac and hills with a 2K fun run also held for all ages through Dinefwr Park.
It's been a great few weeks for Rob Davies (Amman Valley Harriers) who made it 7 wins in 7 and added the 10K win and a course record to his collection with a 37:14 finish, just holding off the Talley 5K winner the previous week, Dai Keenan (39:14).
His Llanelli AC training partners Nicholas Sheehan (39:04) and Mark Harrison (39:14) made it a good set of results for the Pemberton based club with Sarn Helen, Llanelli and Carmarthen occupying the remainder of the top 10: Ken Caulkett, Steve Gogs Williams, Dan Hooper, Matt Yelland, Archi Morgan and Dean Summers.
It was a Carmarthen one-two in the women's category with Elizabeth Tremlett first to finish in 43:12 followed by Wendy Price (44:26), both in the F35 age group. The third and fourth overall female were Clara Davies (Amman Valley Harriers) and Melissa Watson (TROTS)
Some other Carmarthen Harriers results in the 10K were: Archi Morgan (40:39); Elizabeth Tremlett (43:12); Wendy Price (44:26); Paul John (47:47); Mel Best (53:25); Matthew Waugh (53:37); David Toogood (54:07); Magda Jones (1:07:39); Andrea Brabrook (1:10:01) and Robert Winning (1:26:34)
With just over 100 participants of all ages out in the Llandeilo area taking part in the 2K fun run, there was a runners up spot for Scott Price (8:20) and followed by Jac Jones (9:25); Carys Wood (9:46); Amanda Toogood (10:50) and Martha Morgan (11:13); Louise Jones-Evans (48:17);
A large number of clubs were represented at the recent Talley and Llandeilo events with Amman Valley Harriers, Llanelli AC, Carmarthen Harriers, TROTS, Port Talbot Harriers, Swansea Harriers, Sarn Helen, Neath Harriers, Emlyn Runners, Run4All and Sospan Road Runners just to name a few. Category trophies were on offer to the top three in the open male & female, F35, M40, F45, M50, F55 and M60.
Meanwhile, there was the latest BMC PB Classic at Milton Keynes over the weekend (2nd June). Carmarthen Results: U15B Dafydd Jones (800m 2.03.99); Daisy Thompson (U15G 800m 2.19.81); Iwan Thomas (U13B 800m 2.41.01); and Ben Thomas (U20M 2000mSC 5.57.81) who again ran a new personal best and a new club record in the process, having already succeed at Sports City in Manchester a few weeks' back.